Egypt Blues Band (UK)
All three current members are former members of legendary progressive blues outfit The Groundhogs, featuring in several albums and touring throughout UK and Europe over many years.
Alan's credentials also include playing with members of Welsh heavy rock pioneers Budgie in the band Tredegar, two albums for ex-Bo Diddley harp player Billy Boy Arnold, and a European tour for Chuck Berry among other things.
The latest album 'Live in Jena' was recorded live in Germany on Stable Records
Other albums include
Preserving The Dead (1994 - HTD Records), Midnight Sun (2004 - Blues Matters Records) & Blues Kerosene (2010 - Stable Records)
Egypt are currently gigging mainly in the UK and Europe. Always dedicated to guarantee a great evening with impressive, massive bluesrock !
HTTP://www.egypt-blues.co.uk
AVAILABLE for shows in NL,DE,BE: several weekends 2017 and 2018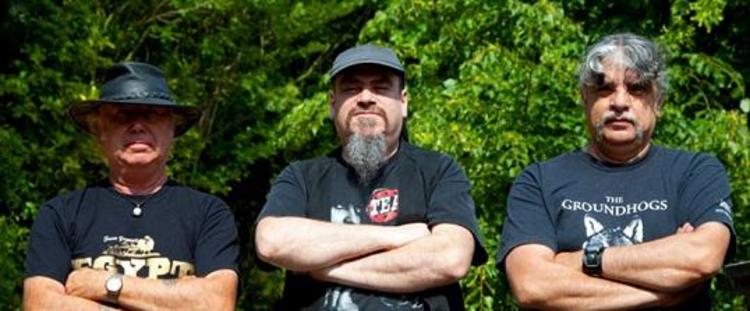 Eileen Rose & Rich Gilbert (USA)

With a steady sequence of highly acclaimed albums and an ever expanding fan base, Eileen Rose has established herself as a brave, eclectic artist who defies easy categorisation. Her richly melodic but starkly emotive songs, offbeat arrangements, rye, canny humour and electrifying live shows have gained her fans from Boston to London, Rome to Nashville. Now, with an extraordinary new collection of songs, Eileen is not only poised to release her best album yet, but is thrilled to announce that, she, along with collaborator/producer/partner in crime, The Legendary Rich Gilbert, in association with the Cadiz Music Distribution, will launch their own record label, Holy Wreckords.

'Be Many Gone' her latest album was recorded in Nashville with a veteran band of star musicians including fiddler, Buddy Spicher (Bob Dylan, Linda Rondstadt, Emmylou Harris), drummer, Johnnie Barber (Merle Haggard, Loretta Lynn, Johnny Paycheck), bass player, Brad Albin (Vince Gill, Time Jumpers), and guitar virtuoso Rich Gilbert (Jack White, Wanda Jackson), known for beautiful pedal steel AND jaw-dropping telecaster solos. The record includes a fantastic guest duet with Pixies frontman, Frank Black/Black Francis/Charles Thompson, an album highlight and an honor for me
SPICY Roots/Americana/Alt.Country at its best !
http://eileenrose.com





Elam McKnight (USA)

Elam McKnight is a singer/songwriter from West Tennessee. He is an artist firmly based in the roots of his region (Blues, Rock, and Country). McKnight's solo debut, 2003's Braid My Hair, was hailed by critics as a breath of fresh air in the sometimes-stale climate that is predictable "bar band" blues, while his second album, 2005's The Last Country Store, found a spot on many blues charts internationally and in America. McKnight's 2007's Supa Good earned notoriety when the opening track, "Devil Minded Woman," was voted by fans as the Best Blues Song in the Musician's Atlas sponsored 7th Annual Independent Music Awards.
In 2011 McKnight released Zombie Nation with Universal Music Group and his newest musical partner Bob Bogdal. The album featured the exceptional musicianship of Grammy award winning Tom Hambridge. Zombie Nation received immediate critical acclaim for its hell bent insistence and feet planted deeply in a blues groove all the while testing the genre's limits. The album topped many year end "best of " charts and received radio airplay worldwide.
http://bigblackhand.com
http://bigblackhand.com/video_player/
TOUR: june 2018 NL,BE,DE,LUX & beyond...





Frank Get (IT/EU)

Frank Get is an Italian artist born in Trieste. He is a singer, a bassist, a guitarist, a pianist and a composer. He started his music career in 1979. He has more than 30 years experience in the music industry, especially rock music. He published 13 albums and has a long list of concerts he did around the world. He has won many awards and participated to a lot of music festivals in Italy like the well known Sanremo festival plus other music competition in Italy and around the world like "Light of Day", the benefit event organized by Bruce Springsteen for Parkinson fund-raising that take place in Stone Pony, Asbury Park, New Jersey.

From 2000 to 2007 he was the bassist of the group "Sottofalsonome". After that he start playing with the Austrian blues band "Nostressbrothers": they published an album called Sweet Groovie Paradox ande they made four European tour.

In 2008 Frank Get published his first solo album, Hard Blues, featuring famous international musician such as the saxophonist James Thompson, the guitarist Mike Sponza, the drummer Moreno Buttinar and the singer Anna Louvergnac.

In 2009 Frank Get founded the blues combo "Tex Mex": the band published the album "Hard Blues" and played a lot of live concerts to promote it. In 2013 the band published a new album called The best has yet to come that includes also the cover verison of No Surrender by Bruce Springsteen (https://www.youtube.com/watch?v=1LU3eWQCcZo). Frank Get always seeks new challenges so in 2014 he started playing the bass and singing with the "Ressel Brothers" and published a cd, To Milk a Duck! (https://www.youtube.com/watch?v=KmMdOoZDDls). In 2015 he published his last solo album, Rough man, 16 original songs and two covers.
https://www.facebook.com/frankjrget
VID: https://www.facebook.com/frank.get/videos/vb.1514274907/10212308358733477/?type=2&theater
TOUR: year round in EU







Gwyn Ashton (AUS/UK)

Gwyn Ashton is a great ambassador for Australian as well as British blues and rock music.
Ashton has been hauling his beaten up National steel guitar and '63 Strat around the world for nearly 20 years, opening for top-billing artists such as Van Morrison, Johnny Winter, Canned Heat, Robin Trower and a multitude of other fine musicians, as well as headlining his own concerts from the UK to eastern Europe. He has been captured on film by ZDF TV (Germany), Czech National TV, Bulgarian TV on the Slavi Show and many other European networks at festivals, concerts and television shows across the continent. He has appeared at festivals in Brazil, Mexico and his native homeland of Australia. He has opened for Status Quo at 15 UK major concert venues including London's prestigious Wembley Arena. He has released six albums and one EP, came third place behind Jeff Beck and Gary Moore in a French guitar magazine poll, had two albums simultaeously in the Amazon Top 100 and records and tours with some of the world's leading rock musicians.
Gwyn is on tour almost the entire year, he was one of the first bluesartists who toured in east europe, with great success.
He is available for acoustic gig, electric gigs and a mixture of that.
A new CD will be released in 2017
http://gwynashton.com
VID: https://www.youtube.com/watch?v=aHzX3SuoLqI
TOUR: November 2017 for shows in NL,DE,BE,LUX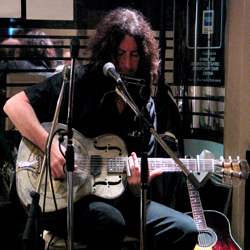 Hymn for Her (USA)
Lucy Tight & Wayne Waxing are "Hymn For Her", a band that hails from anywhere they can park their trailer. H4H live, tour and record in their 16 foot, 1961 Bambi Airstream (comes with dog and baby). Their new release, 'Lucy & Wayne and THE AMAIRICAN STREAM' was entirely recorded in their classic trailer on a coast to coast U.S tour. They stopped at various campgrounds and friends driveways between shows, set up their gear in their Bambi/home recording studio, rolled tape and rocked out. Armed with 2 bullet mics, a three-stringed broom handle/cigar box, banjo, dobro, bass drum, hi-hat, and harp, this 'lil duo causes massive earthquakes wherever they play
TOUR: august 2017 NL,DE,BE,LUX
https://www.facebook.com/hymnforher/
VID:
https://youtu.be/fgFPDPCprr0
JC Cinel (IT)
J.C. Cinel's music career is over 20 years long, but it was 10 years ago that his successfully "on the road" career as a singer/guitarist and song-writer began, taking up different musical genres ranging from classic rock, southern rock, rock-blues, country-rock, prog-rock and west – coast.
During the last ten years he also co-operated with several bands and artists.
From 2003 to 2008 J.C.Cinel is lead singer and co-writer of the band Wicked Minds, with consequent release of three Albums, two of them for Black Window Records: " From the purple sky" and "Witchflower", which are still considered a must of the hard-prog style discography.
Since 2010 he is singer and co-writer of the Jimi Barbiani Band, which releases the hard blues oriented album "Back on the tracks". With this band he carries out a very lucky and successfully tour, performing at the most glamour clubs and stages in Italy and Europe; among the main events: Woodstock Festival (Italy), as opening act of Ten Years After, Nistoc Festival (Italy), Ameno Blues Festival (Italy), Brudstock and Festirock
But it is in his solo albums that J.C.Cinel can express himself best.
Four years after the previous "Before my eyes" J.C. releases a new solo album, "The light of a new sun" (2011). Immediately afterwards, the album has been considered "highlight" both by the German Rocktimes and Home of rock. New colors and influences join the classic, southern jam rock west coast rock American tradition, creating a more powerful sound while the personal style takes care, as always, of melodies, vocal harmonies and arrangements. Special guest at the hammond and piano is Johnny Neel, ex Allman Brothers and Gov't Mule, who met J.C. during his long stay in Nashville Tennessee. "The light of a new sun" sums up the last four years, of music, travels and collaborations, which lallowed J.C. Cinel to perform on several european stages, in France and Spain as well as Germany, Holland, Belgium, Austria and Creta. He even performed twice at the Burg Herzberg Festival, sharing the stage with World legends as UFO, Walter Trout and Gregg Allman.
Specialized music magazines have been always followed the career of J.C. through great reviews regarding all his works and co-opeations, to name a few: the italian Buscadero, Jam, Rockerilla, Blues & Co, plus others from over the world.
His recent album "The light of a new sun" is was produced by Andromeda Relix and Black Widow records. Another step forward in J.C.'s carrier who enriches the sound with a more rocky edge and with new influences.
"The light of a new sun" is the new JC CINEL's solo album that sums all of his musical experiences and collaborations...a CLASSIC ROCK JOURNEY THAT MEETS SOUTHERN-JAM-BLUES-PROG AND WEST COAST ALONG THE WAY...TO RIDE FREE ON ENDLESS HIGHWAYS..
JC and his band performed on many well known festivals throughout Europe. All songs are written and arranged by J.C. CINEL, with his own signature sound.
http://jccynel.com
https://www.youtube.com/watch?v=h2zBi80PZWQ
TOUR: several dates 2017 in NL,DE,BE,LUX,SUI


Jimi Barbiania Band (IT)
JIMI BARBIANI BAND is the project by Jimi, one of the best rock-blues slide guitarist in Europe. The JIMI BARBIANI BAND is an alchemy of influences from artists such as Hendrix, Joe Bonamassa, Jeff Beck, Free, Gov't Mule. The explosive sound of the JBB POWER TRIO is best conveyed in live performances, where the heterogeneity of the show and its mounting impact emphasize the personality of each member of the band, allowing them to span from the long-jam ride to the most passionate blues-rock, ever creating a unique sound.
He co-operated: with Johnny Neel, keyboard-player of the Allman Brothers Band and Gov't Mule.
Jimi jammed on several stages with: Eric Sardinas, John Mooney, Johnny Neel, Tishamingo, North Mississippi All Stars, Devon Allman, Mac Ford, Andy J Forest, Buddy Wittingtone .
Opened the shows of: B.B.King, John Mayall, Robert Plant, Blues Brothers, John Mooney, Greg Allman, Joe Bonamassa, Eric Sardinas, Brian Auger, Ten Years After, Blasters, Tishamingo, Devon Allman, Marc Ford, Rebel Storm, Ike Turner, Steppenwolf, Canned Heat, Robert Cray, Dr Feelgood, Tolo Marton, Mick Taylor, Bill Wyman, Johnny Winter, North Mississippi All Stars.
Jimi Barbiani played at the most important festivals and clubs in Italy and Europe:
Pistoia Blues 2003/2005/2007, Culemborg Blues, Castel San Pietro in Blues 2007, Big Mama, Atri blues, Vallemaggia Blues, Burg Herzberg (Deutschland) 2005/2011, whose concert was filmed by the Rockpalast and one of the songs was included in the DVD of the 2005 Festival, Ameno Blues, Nistoc Festival, Woodstock Festival (Italy), Blues Garage (Deutschland), Blues Garaasj (Nederland), Spirit of 66 (Belgium), Blues Hideaway Nashville (USA) and more...
Jimi, just like the left handed guitar legend, plays from his soul, with a style reminiscent of Muddy Waters and his deep vibrato and a slide expertise that reminds of Duane Allman. Always with good feelings, Jimi's mood style blends technical ability and deep instinct.
His music is inspired by the crowd as he plays for all the people who enjoy the spell of classic sounds as well as the raving rock-blues energy.
With his eyes closed, Jimi becomes one with the stage, playing with an absorbing energy that leads the public, the musicians and himself to a sort of collective trance.

The band consist of 4 members since Pietro Taucher plays Hammond organ in the band. This ads even more power and good vibes.
A new CD is due to be released the end of 2017: It's a live CD with a fantastic collection of songs brought by the band at it's absolute best.
http://jimibarbianiband.com
VID: https://www.youtube.com/watch?v=T33f1qVGv8w
TOUR: 14 - 17 february 2018 for shows in NL,DE,AU,BE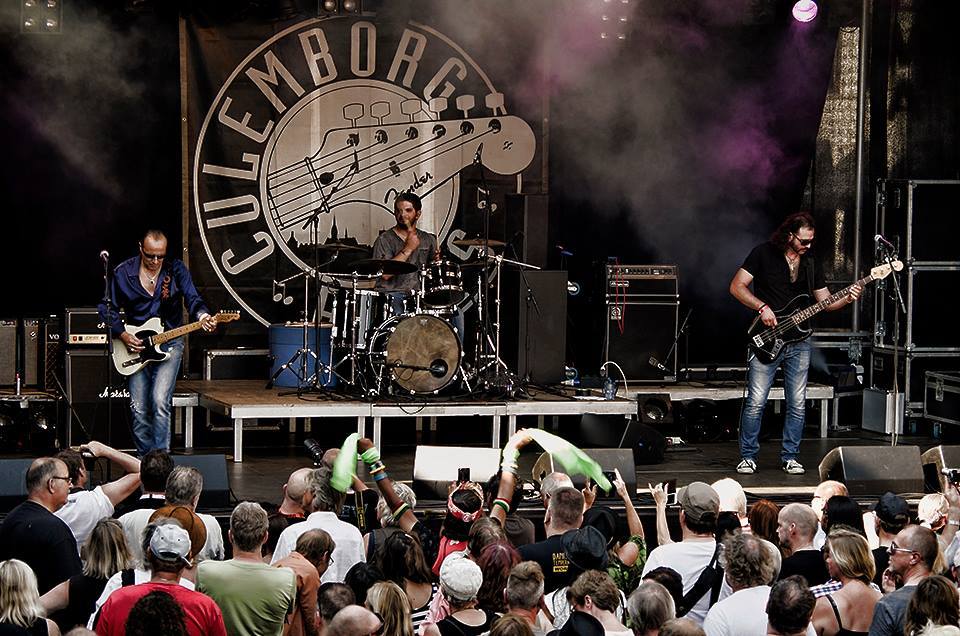 ---
Jimmy's Gang (NL)

Jimmy's Gang In the eighties and nineties, a familiar name, both nationally and internationally with a dynamic mix of blues, soul, funk and rock.
Central to their revival is Jimmy Martin Sterman, singer entertainer, played already from the early sixties with Herman Brood, Hans Lafaye and many others in Bands like:
Blues '66, IBC, Blue Dimension, later also with brothers Laporte (Barrelhouse) and others.

Together with "the Gang" Erwin Aubroeck, (John the Revelator) keys and vocals,
and bassplayer Hein Piscaer (Ruud Jansen Band, Rob Hoeke, Turqoise, etc.),
Guitarist Pete Becker, acquaintances from Haarlem Music Circuit,
Drummer Peter Voogt, (Hot Bolshevik, Ekseption ea.)
they provide a surprisingly swinging evening.

With a diverse repertoire inspired by Rhythm & Blues and Southern Rock, including work by Johnny Neel, Allman Brothers and Joe Bonamassa, Kebmo and many other nice tight covers combined with songs of Jimmy.
You'll hear songs like, Soulshine, Southbound, Maydell, Man of many words ...
The style is sleek, often polyphonic parties and characterized by dynamics interspersed with beautiful ballads to Willy de Ville. (Watch and listen on the website and on Youtube, Jimmy's Gang and Jimmy Sterman).
They are able to adapt their songlist.
Their CD "Notes From Blue(s) Planet" is a fine collection of the band's repertoire.
HTTP://jimmysgang.eu
VID: https://www.youtube.com/watch?v=dQM0LydwoqU&list=PLSUHnu8Kt8GUfCgb4CDVhdMmX-AoMPHoT&index=1
TOUR: throughout 2017 NL,DE,BE,LUX,CH





Hunter & the Dirty Jacks (USA)
Hunter & The Dirty Jacks consists of a virtual all-star cast of Los Angeles and Orange County-area musicians that have been playing locally and regionally for over ten years apiece. Fronted by lead singer and multi-instrumentalist Hunter Ackerman and anchored by Jon Siembieda and Carmelo Bonaventura on guitar, Aaron Barnes on bass, and Brian Lara on drums, the Dirty Jacks put forth a high energy, emotionally compelling performance: a rare combination of soulful originals and tasty covers. The sound is rock and roll with a bluesy core, ala the Black Keys, Rolling Stones, Black Crowes, and Jet. The seasoned performers of this band are all in their late 20s and early 30s. After their resoundingly successful debut at the House of Blues Sunset Strip on 9/29/12, the Dirty Jacks haven't looked back. The band played four tours of Northern California in 2013, has more in store for 2014, and also has established a critically-acclaimed weekly residency that started at the beginning of 2013 at Harvelle's in Santa Monica (the oldest blues club in Southern California), where all of the admission proceeds and a portion of drink sales benefit feeding the hungry in Santa Monica, as well as teaching foster children music.
HTTP://hunterandthedirtyjacks.com
VID:https://www.youtube.com/watch?v=q_lwdSxm0G0
TOUR: August 2017 NL,DE,FR,CH,AU,P,BE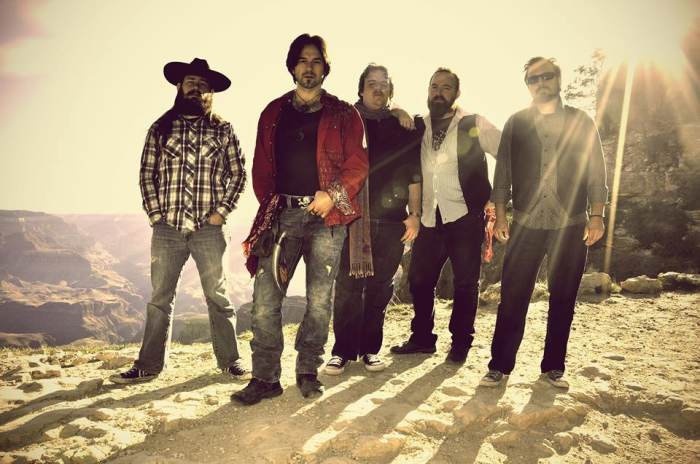 Kellie Rucker & band (USA)

Over the course of a professional career that has spanned more than 25 years, she has appeared on the bill or onstage with such legends as Dizzy Gillespie, Stephen Stills, Albert Collins, James Cotton, ZZ Top, Dan Hicks, Warren Zevon, Little Feat and B.B. King. Kellie is a recording artist with 4 CD releases, *"Ain't Hit Bottom", "Church of Texas", "Kellie Rucker, In the Meantime" and a compilation Cd called "Blues is Blues". All were recorded in Los Angeles, and feature the finest in L.A. talent. Her command of the blues harp and her powerful singing voice have made her a key ingredient on recordings and live shows with legendary blues guitarist B.B. Chung King and Grammy nominee, Jon Butcher. Her work can also be found on discs by such diverse artists as L.A. Guns, Corey Stevens, B.B. Chung King and the Buddaheads, TV Commercials and film in the US and Europe. Rucker's roots are steeped in bluegrass, blues and rock, and these elements appear in various forms throughout her recordings. These days, Kellie performs in concerts all over Europe playing original material from her CDs - she appears in Italy, France, Germany, Holland, Belgium, Sweden, and East Europe, hoping to win over even more music fans. Miss Rucker is proving herself to be one busy lady and one of the best harp players around .. one talent you won't want to miss! This is a very amazing musician whether she plays for small or very large crowds.
http://www.reverbnation.com/kellierucker
VID: https://www.youtube.com/watch?v=JYai4H6k_Hw
TOUR: june-july 2017 NL,DEU,BEL,LUX,SUI and festivals


photo Okkofoto: http://bluesfotografie.nl


Kevin John Cook (CAN)

From greasy blues to country soul this western Canadian roots artist delivers the real thing.
An accomplished guitarist with a signature dusty voice, the real gold is in his lyrics. Cooks tales
of dark beauty tempered with an offbeat sense of humour will captivate you.

Hard to pigeon-hole, his influences range from Hank Williams to J.J. Cale and everything in
between. He cut his musical teeth in Alberta's rough and tumble honky-tonks and blues bars
playing for cowboys, lumberjacks and bikers. In Cook's words " It grows a thick hide on you."
This somewhat reclusive writer likes the quiet life and lives in a cabin in the woods.
"Kevin was simply mesmerizing last night. No other Canadian bluesman is comparable. He's in a class all by himself."
Rusty Reed Blues legend

"A jewel of a record. Cook is an excellent guitar player."
Roots Town Music Belgium

"Kevin Cook is a highly respected Alberta singer/songwriter. His songs reflect on themes of personal importance: relationships, raising children, mid-life issues and the environment. His latest album "Calahoo" finds him fusing his acoustic folk with a more electric vibe, but the songs and stories remain intimite and revealing."
CBC Radio 2
http://www.kevinjohncook.com
https://www.youtube.com/watch?v=hyQkBu2LELs
TOUR: TBA for NL,DEU,BE,SUI,LUX



Miller Anderson Band (SCO)


This Woodstock veteran Miller was born in Houston near Glasgow in Scotland in 1945.
Here is a list showing some of the bands that he has been involved with....
The Voice (1965) with Ian Hunter, Bill Bruford
Keef Hartley Band (1968 - 1971). In November 1968 Miller joined Keef Hartley to record the Halfbreed album. This lineup played in Woodstock Festival, on its second day, although unfortunately they don't appear on the movie or soundtrack.
They released a second album, The battle of North West Six, another superb album. It was recorded with Spit James in the band, with contributions from Mick Taylor (The Rolling Stones) on guitar on one track. Around 1970 they released Overdog, with help from former member Dino Dines (keyboards) and Colosseum drummer Jon Hiseman. Next step was the opposite. Keef records a live album in the Marquee in London, with a big band. Appropiately called Little big band. They toured with a big line up, up to 20 members sometimes. And soon later, Miller decides to pursue his solo career They get a new guitarist, Junior Kerr. They were two guitarists for a few weeks, until Miller Anderson finally leaves in 1971.
Miller Anderson Band (1971 - 1973)
After releasing his solo album, bright city, Miller assembled a band to make some concerts. Although he didn't tour, there are at least some sessions for the BBC in 1971. He called in many of his friends that played in the album. With Pete Wingfield.
Miller played with: Deep Purple, T-Rex, Donovan, Spencer Davis group, Dog Soldier, Mick Taylor, Jon Lord, Savoy Brown etc.
For a full list go: http://www.milleranderson.co.uk career.html
http://www.milleranderson.co.uk
VID: https://www.youtube.com/watch?v=NLcWT6LnPbc
TOUR: on demand and festivals year round NL, BE






Mission of Soul: Cee Cee James & Rob 'slideboy' Andrews (USA)

Cee Cee James is an internationally known 'performance artist extraordinaire' in her well honed craft of giving the depth of ache and vulnerability in her original Roots/Blues Musical Performances, Talks, One on One Sessions and Workshops. After 4 successful award winning CD's, two singles and touring many places within the U.S. and Europe, she has discovered the essence of what her 'MISSION' has been about throughout the journey to 'now.'
Cee Cee's performance 'claim to fame' with her Fans has been RAW & REAL which has been the key into every heart. There is no pretense. There is no posing. There is no perfection. What there is, is a bare aching human vulnerability and understanding of the 'journey' we are all on within the stories in the songs, and within the understanding heart flowing through her voice whether in concert, giving a talk or workshop, or sitting in a personal on on one session.
Cee Cee's lyrics and performances all reflect this truth, this knowing, this reality, and in the core of it all is:
'THE MISSION' of S.O.U.L. being ' Surrendering, Opening, Unblocking Love'
Heartfelt, intense Blues, Roots, Soul played by: Cee Cee James and Rob 'slideboy' Andrews
HTTP://missionofsoul.com
VID: https://www.youtube.com/watch?v=qM3BITgj7sM
TOUR: 2018 for gigs in: NL,GER,BE,CH,LUX,FR




Mitch Kashmar & Band (USA/DEU)


West Coast harmonica player MITCH KASHMAR (1960/Santa Barbara, CA - ) is one of the California disciples who soaked up the sound and the soul of Chicago and Mississippi and Cali-customized it. His theory is the California harp scene started with Arkansas native George "Harmonica" Smith, who settled in L.A. soon after leaving Muddy Waters' band. "Rod got some of it and Kim Wilson got some," Kashmar says of Smith's fat, rounded tones, which often sounded more like an entire horn section than a man with a harmonica. "I got some of it from them." Like Wilson, The Fabulous Thunderbirds singer and harmonica legend, Kashmar grew up in Santa Barbara. " would come back at holiday time, climb down from the T-Birds and play gigs with us," says Kashmar, who played with Wilson in 1981 while the T-Birds were recording Butt Rockin'. "He's one of those guys who'll do it right up till it's over and then some."
Mitch Kashmar has come a long way since his youth in what is now often perceived as the quaint beachside community of Santa Barbara, CA. They've all known what the rest of the blues world is about to find out: Mitch Kashmar is a force to be reckoned with in the blues. Mitch Kashmar has been making a name for himself with his own albums and his appearances with rock and blues giants. Mitch Kashmar has shared the stage with some of the most influential blues musicians including John Lee Hooker, Big Joe Turner, Eddie 'Cleanhead' Vinson, Lowell Fulson, Jimmy Witherspoon, Pee Wee Crayton, Johnny Adams and many others.
While still attending high school, Mitch began sneaking into his first gigs with local bands in Santa Barbara using his brother's ID. By 1980, he formed his own group, The Pontiax, continuing to perform throughout the Santa Barbara and Southern California region. Around the mid-80s, Mitch made the move to Los Angeles and The Pontiax recorded "100 Miles to Go" for the Belgium label, Blue Sting Records. They soon went out on the road expanding their fan base globally with tours throughout the US, Canada, Europe and the South Pacific.
The musical styles of The Pontiax drew on a wide range of influences including Chicago Blues, New Orleans R&B, West Coast Jump Blues and Swing, Boogie Woogie, Louisiana Swamp Rock, Texas Blues and straight forward Jazz. The Pontiax also became very popular within the music community being called into action on stage as back up band with many legendary blues musicians such as Albert Collins, Charlie Musselwhite, Luther Tucker, Pinetop Perkins, William Clarke, Kim Wilson, Roy Gaines and many of the aforementioned artists.
Mitch's blues harp playing is second to none for creativity, drive and excitement. And he's also just as witty and imaginative in the role of songwriter. Moving on to a solo career recording "Crazy Mixed-Up World" in '99, Kashmar started making a name for himself and touring with his own band but it wasn't until his 2005 effort "Nickels & Dimes", featuring guitar great Junior Watson on Delta Groove Music's label, that his stock really began to rise. Kashmar was recognized two consecutive years in a row by the Blues Music Awards with nominations in 2006 as Best New Artist Debut and followed in 2007 as Best Instrumentalist - Harmonica.
When taking a break from his solo career, Mitch has also signed on for active duty with the latest touring incarnation of the classic 70's funk-rock band War, and even made rock 'n' roll history appearing onstage alongside legendary British rocker Eric Burdon & War for a reunion concert held on April 21, 2008 at London's Royal Albert Hall.
https://www.facebook.com/mitch.kashmar
https://www.youtube.com/watch?v=FaqTaRgPjA0
TOUR NL,BE,LUX,CH for other countries info on request.
June 29th-July16th
October 18th-November 06th





Pierre K Band (BE)


Het motto "Blues van bij ons" is hier van toepassing. Pierre K is een band afkomstig van Luik. De titel "Troubles On My Mind" verwijst misschien naar onderliggende problemen die bij iedereen wel eens aanwezig zijn. In het geval van Pierre K levert dit een hoogstaande cd op. De heren presenteren ons blues – rock, beter nog powerblues, van een zeer hoog niveau. Goede rifs, "Star Life", perfect gespeelde gitaarsolo's, "Money Machine" – "My Lady", en een orgel om je vingers van af te likken, die bovendien alom tegenwoordig is. Het gitaarspel van Pierre is verbluffend. Hij kan ze laten scheuren, schreien, gillen maar ook gevoelig laten wenen zoals op "Island Of Peace". Misschien het enige minpunt is de wat vlakke stem van Pierre op de snelle nummers. Zijn timbre komt beter tot uiting op bv "My Lady". Dat is trouwens het beste nummer van de cd. Dit nummer alleen verantwoordt de aanschaf van deze schijf. Live moet deze band de pannen van het dak spelen naar mijn mening. Ik kijk er dan ook al naar uit om ze eens bezig te zien.
Pierre Kasprzyk: gitaar, zang
Maxime Cromps: orgels
Olivier Fanuel: basgitaar
Raphaël Pire: drums
https://www.facebook.com/pierre.kasprzyk?fref=ts
Available year round for NL,GER,BE,LUX, SUI


Rosco Levee & the Southern Slide (UK)
Guitar drenched, Hammond infused, with hints of the best of 70's British & American Rocking Blues in a Woodstock meets The Raconteurs kind of way, Rosco Levee & The Southern Slide boil over with flavours of London and the Mississippi. Rosco draws comparisons with Clapton and Kossoff and has a stage presence reminiscent of Steve Marriott, yet the band have a style, sound and soul all of their own. Their debut record "Final Approach to Home" was released to massive critical acclaim in 2012, with the song "Goldrush" nominated for best original song in the British Blues Awards 2013. With only one way to get their unique sound, they recorded their much anticipated second record "Get It While You Can" on reel to reel in an all analogue old school studio in deepest Kent for release in January this year. Tipped by Classic Rock Magazine as one of the hottest bands to watch, this band is peerless in their genre and have a string of Festival and shows in the UK and Europe.
HT

TP://roscolevee.com
VID:
https://www.youtube.com/watch?v=1MOyRedlUn8
Ruzz Guitar's Blues Revue (UK)
Ruzz is a Gretsch wielding guitarist born and bred in Bristol UK. He has been taking audiences by storm with his unique guitar style for a few years now and still shocks people at every gig he plays.
After taking inspiration from many great guitarists such as Wilko Johnson, Brian Setzer, Jim Heath and Jimmie Vaughan, Ruzz has developed what he has learnt into his own style which is quickly becoming recognised around the UK.
After only 6 months of playing guitar Ruzz was out playing with Blues bands and in Blues jams around his home city of Bristol. After making a name for himself around the Blues scene he started playing with 'The RedHot Trio' around the Rockabilly scene of Bristol and the UK which shot his career and reputation up almost instantly and he started being recognized more and more for his unique sound and style.
In 2012 he joined the Bristol/Bath based Rockabilly band 'The Cheaterslicks' which has again boosted his reputation around the UK and more so around Europe. In 2014 Ruzz decided that he wanted to get back to his roots and main influence - the Blues. This decision has led to this new project 'Ruzz Guitar's Blues Revue', a powerful Soul-Injected Blues/R&B band made up of experienced musicians from the Bristol music scene.
This new Soul injected Blues/Rock'n'Roll/Rockabilly band will soon be in your town, and when it is you better be ready for a killer night!
AVAILABLE TOUR 2017 several dates NL,DEU,BE,LUX
https://www.reverbnation.com/thebluesrevue
VID: https://www.youtube.com/watch?v=hOcXnjILdwc


SALVATION JAYNE (UK)
Salvation Jayne formed in early 2014, consisting of Holly Kinnear (Guitar), Amy Benham (Vocals), Dan Lucas (Bass) and Lucy foster (Drums). With a mutual passion for the Blues they teamed together to create a unique sound that is energetic, dirty, raw, punk-ish and dynamic. The band takes influence from early Blues artists such as Leadbelly and Blind Willie McTell through to The Black Keys and Royal Blood.
Although they are a fairly new band, Salvation Jayne are already much in demand and constantly re booked by venues. They have an expanding and loyal fan base and some prestigious shows behind them, including opening for Dr Feelgood, The Harley Davidson new model launch and are being picked up for Blues, Rock and Soul festivals throughout the UK since 2016. RAW BLUES & ROCK
http://www.salvationjayne.co.uk/
TOUR: TBA


Stacy Jones band (USA)
Stacy Jones Band continues to blow fans away with their high-energy, genre bending performances. Amazing vocals, incredible musicianship, outstanding songwriting and powerful, dynamic arrangements – it's easy to understand why Stacy and her band are captivating the crowds and gathering new fans worldwide.
Stacy Jones not only impresses with a vocal richness beyond her years but is also a top-notch harmonica player as well as playing keyboards and acoustic guitar. The entertaining trio of Rick J Bowen (drums), Tom Jones (bass) and Kevin Sutton (guitar) provides the foundation for a strong ensemble sound and the band's obvious joy of making music together is contagious.
Her new cd 'Whiskey, wine and water' with 12 original songs was recorded and co-produced by Floyd Rietsma (Pearl Jam and Dave Mathews) at Studio Litho in Seattle. Continually nominated for "Best of the Blues" Awards in songwriting, performance, harmonica, guitar, dobro and winning vocalist of the year, Stacy shows her talents off in this compilation of songs about love, lost love, whiskey drinking and life on the road.
Her songs are a fine mix of country, folk and Americana roots while always having a touch of firm blues in her soul.
Having made appearances at SXSW, Chicago Blues Festival, Beale St. Memphis during the IBC's and several other national and regional festivals, her talent is awaiting the next level of recognition.
Stacy has shared the stage with Elvin Bishop, Lee Oskar, John Nemeth, Ian Siegal, Charlie Musselwhite and many more.
Their first European tour was a great success, lots of new fans for this Multi award winning frontlady and her band. Awards won for best album,best song, best bass player, best drummer, best artist !
TOUR: TBA
http://stacyjonesband.com
https://www.reverbnation.com/
stacyjonesband
Tia McGraff (CAN)
The attuned artist knows they have reached that pivotal moment, when (after years of hard work; self-exploration; audience building; creative honing; and plain old passion and determination), they suddenly create their masterpiece! Tia McGraff unabashedly peeled back all the layers in Break These Chains, her new 12 track CD release, on Bandana Records (produced by co-writer/husband Tommy Parham).
The rootsy melodies and honest- to -heart lyrics have been produced with such integrity that one feels they are listening to something hauntingly familiar yet refreshingly real!
Perhaps it is because Tia's influences include lyrical wonders like Joni Mitchell, Patty Griffin, and Mary Gauthier, or because she has drawn from the stories of those who have touched her own heart.
Somehow she has captured a unique and moving experience in each song that is perfectly married to Mr. Parham's melodies! The CD flows from ballads like, "Between The Bed And The Door" to a lively "Whiskey Ship" and yet with a consistency that comes from stunningly crafted songwriting, stellar vocals, and impeccable musicianship.
Tommy Parham's hooky guitar work is framed by Canadian musician, Johnathon Edwards' electric guitar and bass/mandolin. Select guest musicians include popular folk artist, Ian Bell (accordion), and "hobo" harmonica performed by Reba's own band member, Jim Kimball from Nashville.
Break These Chains was mixed in Austin, TX by Rick DeLellis and mastered in Caledonia, ON by legendary Nick Blagona.
Described as having "a voice stolen from angels", Tia McGraff first stepped into the international spotlight on a CBC TV special with Johnny Cash and June Carter. Johnny was so impressed with Tia, he invited her into June's dressing room to introduce the two. Johnny Cash wasn't the only one who recognized a shining star! Soon heavy weights like Randy Bachman (BTO), Dan Hill (Celine Dion), Andrew Gold, Mark Slaughter, and countless others, were inviting Tia to write and record with them.
Every songwriter's dream is to make it in Nashville, and Tia soon found herself moving there to further her passion and craft. It was in Music City, USA, that this Canadian songstress met Colorado native, Tommy Parham (Lee Greenwood's "Rocks You Can't Move").
Together, they have a passion for song writing "outside the box". They celebrate numerous film/TV placements, including Ashley Judd's "Come Early Morning", and their song "All Of Us", which was used in an Australian TV commercial promoting multiculturalism was also used in a video on World Youth Day in Sydney.
6 CD releases, 4 CMT videos, 15 years of main stage festivals and headline concert performances, and you have a singer/songwriter who has crafted a musical career that is respected and celebrated by thousands of fans and industry notables today. Performing on main stage festivals, concert halls, song writing venues, and even house concerts, Tia captures her audience and holds them spell bound until her last haunting note has faded.
HTTP://tiamcgraff.com
https://www.youtube.com/watch?v=uvzcnDrJ3pw